Senior Recruitment Consultant - Life Sciences (F/M)
Brussels

Brussels

Belgium
Posted on: 29/11/2021
Job type: Permanent
Sector: Legal and Professional Services
FYTE (Find Your Talent Easily) is a global modern recruitment business with deep-rooted local experts operating in specialist markets.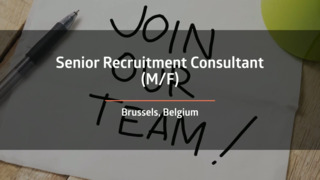 We work across multiple sectors and skill sets including Human Resources, Legal, Finance, Technology, Sales & Marketing. We are part of Morgan Philips Group, an innovative, entrepreneurial recruitment, executive search and talent management business, who have in 5 years grown from start up to 600 consultants, in 20 countries, and is already recognised as a LinkedIn top 10 influencer!
Joining FYTE Belgium provides you with the unique opportunity to contribute to the growth of a very innovative recruitment firm with a cutting edge digital approach. We are looking for smart people who strive to be the best, are entrepreneurial in spirit, and keen to progress within a supportive team environment.
The day to day.
From day one you will manage your own business and be given responsibility to build, manage and qualify your own pool of candidates within your chosen specialism and build a new business pipeline using your persuasive skills to secure new clients, grow existing relationships and generate business for your practice, so you will need to be a self-starter, enjoy working autonomously and have the determination to be the best.
Work with cutting-edge technology.
FYTE have combined traditional recruitment techniques with a range of innovative talent management assessment tools and some of the latest digital tools (video job adverts, app FYTE4U...) to ensure we can easily attract the right talent for our clients.
The profile we need.
We are looking for confident, ambitious and passionate team members French and/or Dutch speakers with a good command of English. Whether you have a minimum of 2 years or many years recruitment experience we are looking for people who are passionate about sales, people focused, outgoing, at ease in negotiation situations and confident. This is a role that will deliver both financially and developmentally, but results solely depend on your commitment, resilience and sheer determination to succeed.
Last but not least, you will join a very dynamic team, and will benefit from our international training programs to develop your competencies.
This isn't just a job, it's a career with one of the world's most innovative fastest growing, digitally enabled yet human touch organizations. If you think you've got what it takes and ready to take the challenge get in touch today. We look forward to meeting you!

If you think that your profile is the right fit, do not hesitate to send your application to Edouard Van Ginderdeuren, your application will be treated in the utmost confidentiality.
Apply with
---
---
MS Word, PDF, HTML and text formats.
or