Posted on: 24/11/2022
Job type: Permanent
Sector: Insurance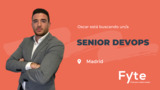 Compañía líder de seguros precisa incorporar profesionales con experiencia como SECDEVOPS, que cumpla con los siguientes requisitos:

Experiencia consolidada el roles Devops, SRE o ingeniero de Seguridad.
-Experiencia consolidada con AWS.
-Experiencia con Kubernetes.
-Experiencia práctica en el diseño y operación de las capacidades de Observabilidad en Prometheus, Grafana, Thanos.
-Experiencia utilizando una tecnología de infraestructura como código (es decir, Terraform) para gestionar la infraestructura de la nube.
-Nivel de inglés avanzado.

Desempeñara las siguientes funciones:

-Representar a la seguridad en el equipo de DevOps
-Impulsar infraestructura en la nube (AWS usando Terraform)
-Trabajar con los equipos de ingeniería para agilizar la productividad y el rendimiento de los desarrolladores de aplicaciones.
-Garantizar el rendimiento, el tiempo de actividad y la escala de las aplicaciones.
-Solucionar incidentes, identificar las causas de origen, arreglar y documentar los problemas e implementar medidas preventivas.


Contact
Oscar Gutierrez

Fyte
Paseo de la Castellana 141, 17
28046 Madrid
Spain
Apply with
---
---
MS Word, PDF, HTML and text formats.
or