2 Consulting jobs in France
Luxembourg, Luxembourg
Video advert
Reference: LU834506
Posted on: 21/06/2022
Job type: Permanent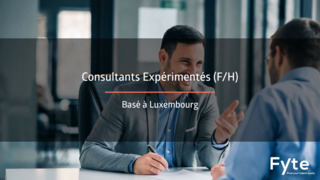 Notre client est un cabinet de conseil en management et en organisation présent mondialement et en forte croissance.
Acteur de référence dans le secteur des services financiers, les consultants interviendront sur plusieurs problématiques stratégiques pour le compte des plus grandes entreprises du Luxembourg. Missions : Au sein d'une équipe de professionnels issus des plus grands cabinets de conseil et d'institution...
Luxembourg, Luxembourg
Reference: LU839702
Posted on: 01/07/2022
Job type: Permanent

On behalf of a multicultural advisory firm, we are recruiting a Quantitative Risk Analyst (F/M) that will work for banks and funds.
Initially established in Europe, our client has experienced a significant growth in the past years. Across the world, teams share the same values, the same objectives and service standards enabling them to work together, as one team beyond national borders and across functions. In their Luxembourgish office, you...