Compensation & Benefits Specialist (F/M)
Luxembourg city center

Luxembourg
Posted on: 02/08/2021
Job type: Permanent
Sector: Financial Services
Our client is a reputable bank with European headquarters located in Luxembourg - It's a newly created position.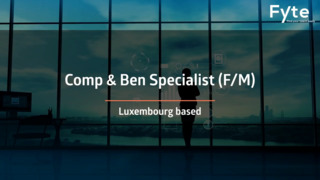 From Luxembourg, you will be responsible for supporting the administration of the company's compensation and benefits policies across Europe & the United Kingdom including pensions, health insurance, payroll, bonus payments, salary sacrifice schemes and other lifestyle benefits.
Reporting to the Head of Human Resources Europe, you will work in close collaboration with the local HR Business Partners and external providers.
Key responsibilities include administering the monthly payroll with high levels of accuracy, conducting market research, analysis and recommendations on new or revised compensation and benefits offerings, always ensuring compliance with statutory requirements. In addition, you will prepare accurate and detailed analytical reports across a variety of HR data sets including gender pay gap, salary review and salary benchmarking reporting. You will build and maintain strong relationships with key stakeholders, informing employees regarding current benefits programs and providing accurate information and advice to all employees and managers on salary, benefits and tax queries.
The successful candidate will have
Extensive compensation and benefits experience within an international environment, coupled with experience of supervising
a monthly payroll process of company located in the UK,
Experience in processing employee benefits and a strong understanding of tax calculations,
Demonstrable experience in preparing detailed analytical reports across a variety of HR metrics, is essential,
Strong communication and relationship management skills, with excellent organizational, time management and attention to detail expertise,
Strong IT skills are required for this role,
Fluency in oral and written English AND French is required

Could this be the right opportunity for you? Please do not hesitate to send your CV to Fyte Luxembourg to be considered for this recruitment process.

Your application will be treated with the utmost confidentiality.