Legal Counsel
Newcastle Upon Tyne

North East - Northumberland

United Kingdom
Posted on: 20/11/2023
Salary: GBP 50000 -> 60000 per year
Job type: Permanent
Sector: Media and Internet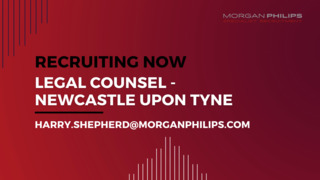 LEGAL COUNSEL – MOBILE GAMING
NEWCASTLE (HYBRID WORKING – 2-3 DAYS IN OFFICE PER WEEK)
PERMANENT ROLE
£50,000 - £60,000 PLUS PACKAGE
Role Overview:
Our client, a leading international mobile gaming business are looking for a talented, business-minded Legal Counsel to join their dynamic in-house commercial legal team. Reporting to a Senior Legal Counsel, you will be part of an international team of lawyers, working on projects related to this rapidly expanding business including online gaming brands and related businesses.
Key Accountabilities:
Draft, review and offer guidance on a variety of contracts including marketing and sponsorship agreements (previous examples include sports and celebrity sponsorships), non-disclosure, affiliate and consultancy agreements, and any other legal documentation as required;
Negotiate legal terms directly with suppliers;
Collaborate with professionals across various departments, building strong relationships with internal and external stakeholders;
Provide general legal advice and support on a range of issues;
Extend support to the HR team on human resource related matters;
Develop internal policies and procedures;
Raise the business awareness around key commercial legal risks and mitigations;
Support innovation and use of technology to simplify and improve the delivery of legal services;
Monitor, research and advise with relevant legal developments, industry regulations, and best practices in various jurisdictions to ensure the company's legal strategies remain current and effective;
Assist in the resolution of disputes, including contract disputes and potential litigation, collaborating with external legal counsel if required;
Deal with any post-contractual legal issues that may arise; andEnsure timely progression of ongoing commercial contracts and legal requests.
About You:
Qualified solicitor with a minimum of 2 years' PQE and relevant industry experience gained either in-house or within a private practice law firm.
Demonstrable experience in drafting, negotiating and reviewing various types of agreements.
A proactive, self-starter able to work independently but also thrive on working as part of a wider team, in a dynamic and fast-moving environment.
Excellent attention to detail with strong communication skills and sound judgement.
Proactive approach in identifying legal risks and proposing practical preventive strategies.
Team player with the ability to work and build strong relationships with colleagues in a multicultural and multinational environment.
Please note you will receive an automated response advising you that we have received your CV.
Morgan Philips Group is a global talent solutions business that disrupts conventional thinking in executive search, recruitment and talent consulting. We operate in over 18 markets in Europe, North & South America, Asia, and the Middle East & Africa. We understand that the future is digital and social, so we embrace the latest technology, including video ads and CVs, as well as social recruiting. Our innovative services are tailored to the new world of work yet we do not lose sight of the fact that employees be they existing and potential are ultimately human beings.
We are committed to ensuring that all job applicants are treated equally, without discrimination because of gender, sexual orientation, marital or civil partner status, gender reassignment, race, colour, nationality, ethnic or national origin, religion or belief, disability or age.
Contact
Harry Shepherd

Morgan Philips Specialist Recruitment
12 Red Lion Square
WC1R 4HQ London
United Kingdom