Accountant & Office Manager (F/H)
Luxembourg ville est

Luxembourg
Posted on: 13.05.22
Job type: Permanent
Sector: Property and Real Estate
Nous recrutons en exclusivité pour le compte d'une société spécialisée dans le développement de grands projets logistiques, d'entrepôts, d'immeubles de bureaux et résidentiels et de centres commerciaux.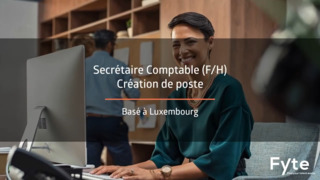 Notre client est à la recherche d'un(e) Secrétaire Comptable pour venir renforcer l'équipe Finance (création de poste) et accompagner la croissance à venir de l'entité luxembourgeoise.
Vous reporterez directement au Responsable Administratif et Financier de la maison mère belge.
Vos principales responsabilités :
Gestion de la comptabilité clients/fournisseurs;
Tâches administratives diverses en relation avec la comptabilité;
Capacité de travailler de manière autonome;
La gestion du courrier, l'accueil téléphonique et la réception clients.
Le profil recherché :
Bonne capacité organisationnelle et à gérer son temps et ses priorités;
Autonome, flexible, ponctuel;
Avoir le sens des responsabilités;
Excellente capacités relationnelles;
Parfaite maîtrise du français et de l'anglais, le néerlandais serait un avantage.
Si vous pensez que votre profil correspond à cette offre, n'hésitez pas à postuler.
Votre dossier sera traité en toute confidentialité par Jeanne Gueriaux, Fyte Luxembourg.
Apply with
---
---
MS Word, PDF, HTML and text formats.
or