Consultants en Organisation (F/H)
Posted on: 05.08.22
Job type: Permanent
Sector: Legal and Professional Services
Notre client est un cabinet de conseil en management et en organisation présent mondialement et en forte croissance.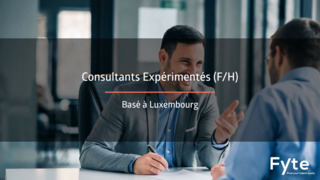 Afin de renforcer ses équipes, notre client recherche des consultants expérimentés qui prendront part à des projets stratégiques pour le compte de grands comptes des services financiers au Luxembourg.
Au sein d'une équipe de professionnels chevronnés issus des plus grands cabinets de conseil et institutions financières, vous participerez de façon active au développement du cabinet au Grand-Duché.
Principales responsabilités :
Optimisation de l'efficacité opérationnelle (refonte de processus, management de la performance…)
Accompagnement de la transformation & conduite du changement
Amélioration de l'efficacité commerciale, refonte du parcours client et transformation digitale,
Mise en place de programmes d'efficacité visant l'optimisation des coûts et l'amélioration de la rentabilité
Accompagnement à la mise en place de nouvelles normes et réglementations
Assistance à la coordination et au pilotage de projets variés
Transformation et optimisation de fonctions transverses (Finance, Risques…)
Profil recherché :
Diplômé(e) d'une grande école de commerce ou d'ingénieur, d'un Master spécialisé
Expérience significative (3 ans minimum) dans un cabinet de conseil ou au sein d'un établissement financier dans des fonctions de projet
Dynamique, rigoureux, autonome, proactif
Grande aisance dans la communication orale et écrite
Maitrise des outils informatiques (Excel, Word, PowerPoint, etc.)
Maîtrise du français et de l'anglais
Si vous pensez correspondre au profil recherché, n'hésitez pas à envoyer votre candidature à
Mathieu Méric
, elle sera traitée en toute
confidentialité
.
Apply with
---
---
MS Word, PDF, HTML and text formats.
or