Consultant Life-Insurance (F/M)
Cloche d'or

Luxembourg

Luxembourg
Posted on: 23.07.21
Job type: Permanent
Sector: Legal and Professional Services
On behalf of our client, an innovative specialist Management Consulting firm, we are currently recruiting a Consultant specialized in Life-Insurance.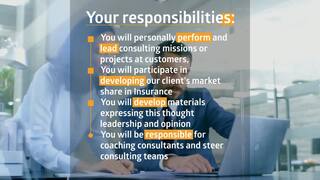 Initially established in Paris, our client has grown into a global firm with approximately 1,500 employees. With consultants representing 41 different nationalities, our client has a highly diverse team spread across 25 offices in 16 countries. You will join a very experienced team in Luxembourg and will benefit from an international environment, working with local and international clients.
Your responsibilities
Consulting missions:
You will personally perform and lead consulting missions or projects at customers, thereby using your personal expertise to guarantee the service and quality level that the company stands for.
You will be following-up and steering the consulting work of other consultants.
Commercial development:
You will participate in developing our client's market share in Insurance in Luxembourg, and assure that their offers fit the market needs. Therefore, you can count on the existing consulting team and the expertise available in the group.
From the company office in Luxembourg, you will play a proactive role in the business development process. This involves prospection, writing and defending proposals and relationship management with customers.
Thought leadership:
You will develop in depth knowledge of the Luxembourgish and general Insurance market.
You will analyze evolutions in business models and sector trends, innovations, etc… to assure good comprehension of the upcoming challenges and opportunities of customers.
You will develop materials expressing this thought leadership and opinion leadership, such as case studies, expertise letters, press articles, etc…thereby feeding marketing channels and prospection process.
Team Guidance:
You will be responsible for coaching consultants and steer consulting teams on mission in the Insurance business line in Luxembourg.
Your profile
Master's degree from a first class university (business, engineering, economics, …);
Fundamental insight in the insurance market;
Minimum 10 years of relevant experience in a consulting company in the Financial Services sector, or in Insurance, preferably in Luxembourg;
Self-starting, flexible, entrepreneurial person, and proven business development skills;
Ability to monitor company or market trends, evolutions, new challenges and triggers actions within the company to adapt their offering or launch prospection;
You have successfully conducted relevant projects and managed teams;
Languages: Fluent in French and excellent command of English (written and spoken)

If you are interested in this position, feel free to send your application to Myriam Rachid.
Apply with
---
---
MS Word, PDF, HTML and text formats.
or