Manager - Fonds d'Investissement (F/H)
Posted on: 05.08.22
Job type: Permanent
Sector: Legal and Professional Services
Notre client est un cabinet de conseil en stratégie et management spécialisé dans les métiers de la banque, de la finance et de l'assurance, implanté à Paris, Londres, Luxembourg et en Asie (Hong Kong, Singapour).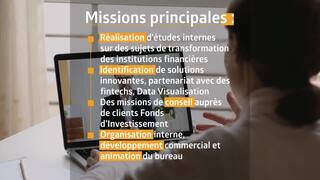 Acteur de référence dans le secteur des services financiers, leur métier est d'assister les directions générales dans la déclinaison de plans stratégiques ainsi que les directions opérationnelles pour le pilotage et la mise en œuvre de projets de transformation ou de mise en conformité.
Missions :
Au sein d'une équipe de professionnels issus des plus grands cabinets de conseil et d'institutions financières, vous participerez de façon active au développement du cabinet.
Principales responsabilités :
Réalisation d'études internes sur des sujets de transformation des institutions financières (avancées technologiques, optimisation de process, …), de mise en conformité (analyse de réglementations européennes ou locales, etc.), ou liées à la finance durable.
Projets liés à l'innovation dans les services financiers : identification de solutions innovantes, partenariat avec des fintechs, Data Visualisation, Blockchain, Intelligence Artificielle…
Des missions de conseil auprès de clients Fonds d'Investissement : projets de mise en conformité, d'excellence opérationnelle, de mise en place d'innovations technologiques et de gestion des risques / finance.
Animation du bureau : organisation de réunions d'équipes mensuelles, d'événements et de challenges inter-entités, rédaction d'articles, coordination entre les différents bureaux.
Développement commercial : prospection, réalisation de pitch clients, réponse aux appels d'offre…
Coordination de la relation avec les partenaires locaux du cabinet.
Le poste peut être adapté en fonction du profil du candidat, de son expérience et de ses appétences (profil ingénieur, appétence pour le réglementaire, développement de solutions innovantes…).
Profil recherché :
Diplômé(e) d'une grande école de commerce ou d'ingénieur, d'un Master spécialisé ou d'un Master d'université
Expérience significative (5-10 ans) dans le conseil en stratégie/organisation dans les Fonds d'Investissement
Dynamique, rigoureux, autonome
Maitrise des outils informatiques (Excel, Word, PowerPoint, etc.)
Maîtrise du français et de l'anglais
Apply with
---
---
MS Word, PDF, HTML and text formats.
or