3 jobs in Newcastle upon Tyne
Homebased / remote working
Reference: UK857099
Posted on: 28/11/2023
Job type: Permanent

SENIOR LEGAL CONTRACTS MANAGER LONDON (FULLY REMOTE WORKING AVAILABLE) £75,000 + PACKAGE PERMANENT ROLE Role Overview: Morgan Philips Specialist Recruitment are presently representing a globally operating IT service company in their search for a Senior Legal Contacts Manager. You will join ...
Newcastle Upon Tyne, North East - Northumberland
Video advert
Reference: UK855928
Posted on: 20/11/2023
Salary: GBP 50000 -> 60000 per year
Job type: Permanent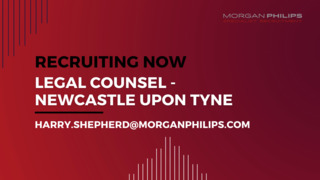 LEGAL COUNSEL – MOBILE GAMING NEWCASTLE (HYBRID WORKING – 2-3 DAYS IN OFFICE PER WEEK) PERMANENT ROLE  £50,000 - £60,000 PLUS PACKAGE Role Overview: Our client, a leading international mobile gaming business are looking for a talented, business-minded Legal Counsel to join their dynamic in-hou...
Homebased / remote working
Reference: UK856704
Posted on: 13/11/2023
Job type: Permanent

Working for a leading Commercial organisation as a Senior Bid writer in Health and Social care. This is a permanent role paying up to £50K plus excellent benefits with hybrid working. Once a month based in the office near Sunderland. Key Duties: ·Develop, manage and grow the bid team in accordance wit...