4 jobs in North East - Northumberland
Homebased / remote working
Reference: UK857099
Posted on: 28/11/2023
Job type: Permanent

SENIOR LEGAL CONTRACTS MANAGER LONDON (FULLY REMOTE WORKING AVAILABLE) £75,000 + PACKAGE PERMANENT ROLE Role Overview: Morgan Philips Specialist Recruitment are presently representing a globally operating IT service company in their search for a Senior Legal Contacts Manager. You will join ...
Newcastle Upon Tyne, North East - Northumberland
Video advert
Reference: UK855928
Posted on: 20/11/2023
Salary: GBP 50000 -> 60000 per year
Job type: Permanent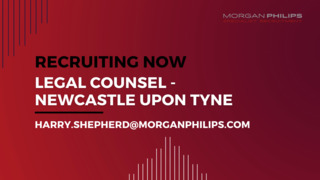 LEGAL COUNSEL – MOBILE GAMING NEWCASTLE (HYBRID WORKING – 2-3 DAYS IN OFFICE PER WEEK) PERMANENT ROLE  £50,000 - £60,000 PLUS PACKAGE Role Overview: Our client, a leading international mobile gaming business are looking for a talented, business-minded Legal Counsel to join their dynamic in-hou...
Cramlington, Northumberland, North East - Northumberland
Reference: UK856706
Posted on: 13/11/2023
Salary: GBP 60000 -> 60000 per year
Job type: Permanent

COMMERCIAL MANAGER       Overall Job Purpose:   The Commercial Manager is required to ensure that all commercial activities of the Business Unit are properly managed and controlled, and that the commercial function is developed and delivered in accordance with the requirements of the business. ...
Homebased / remote working
Reference: UK856704
Posted on: 13/11/2023
Job type: Permanent

Working for a leading Commercial organisation as a Senior Bid writer in Health and Social care. This is a permanent role paying up to £50K plus excellent benefits with hybrid working. Once a month based in the office near Sunderland. Key Duties: ·Develop, manage and grow the bid team in accordance wit...